Our subscription gives you access to our entire audiobook library! Whether you're on the road, listening while you multitask, or simply prefer listening to a good story, you'll be able to enjoy great audiobooks on Scribd.
Locating an audiobook
There are two ways to find audiobooks on Scribd, browsing or searching. If you don't have a specific title in mind, select the 'Audiobooks' tab at the top of the screen on our website or the app homepage. There you'll see a few options for browsing our audiobook content library: an Overview of recommendations and curated lists, Categories where you can narrow your browsing down by specific genres and interests, and of course the Editors' Picks' curated lists.
You're welcome to search for a specific audiobook as well! To search, we recommend using the title or author, and then:
Enter your search phrase in the area provided. When you scroll through the results, you'll first find all of our content libraries matching your search.
Select the tab 'Audiobooks' to see all the titles matching your results in the audio format. We have a guide on how to search and browse the Scribd library here if you need some tips and tricks on exploring the vast amount of titles we have available!
When you find an audiobook you're interested in, click on the book cover to be taken to the book's "About" page.
Beneath the book cover, you'll see the option to Start Listening or you can Save for Later.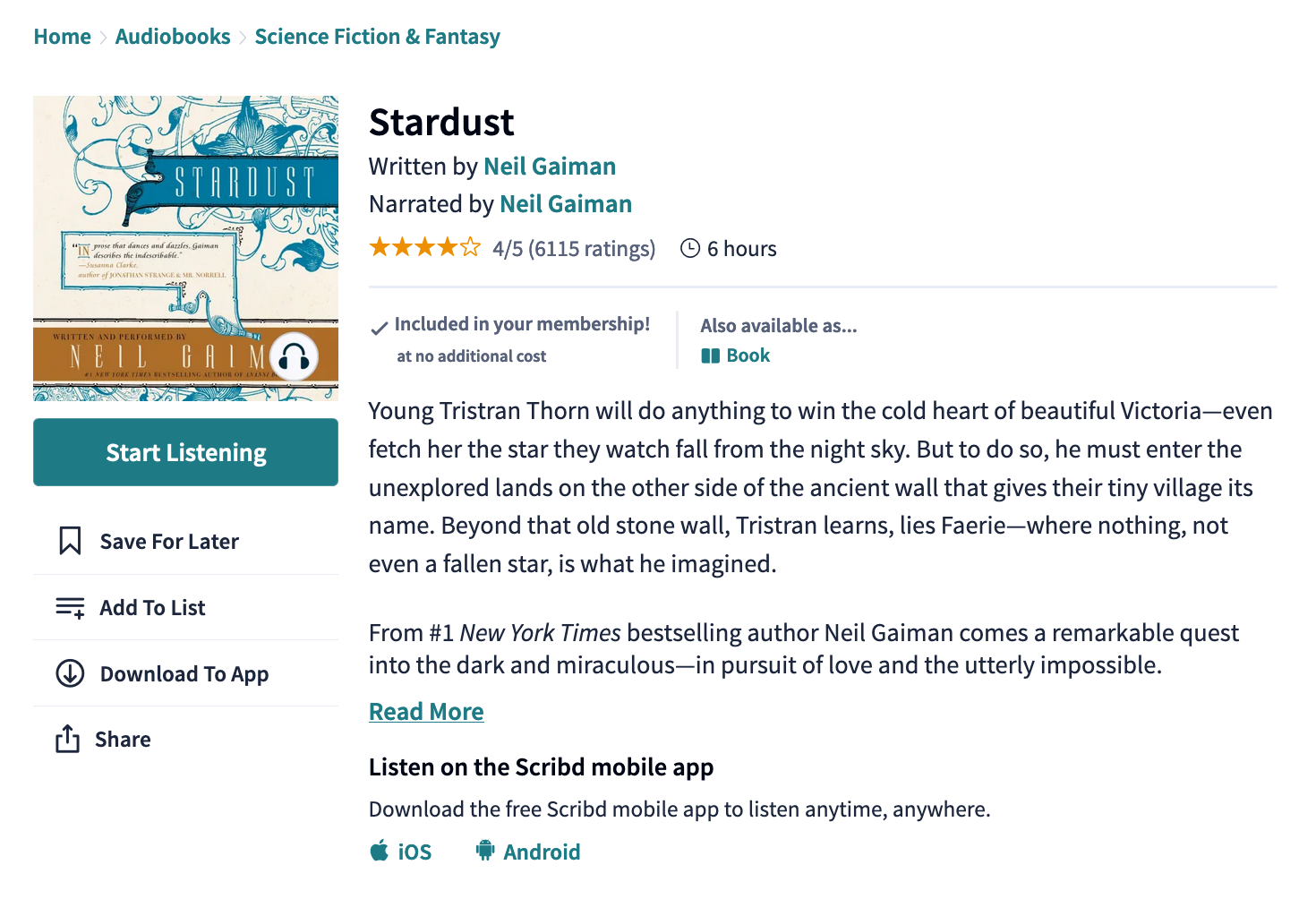 Listening to an audiobook
To start playing the book, select Start Listening and our audiobook player will open!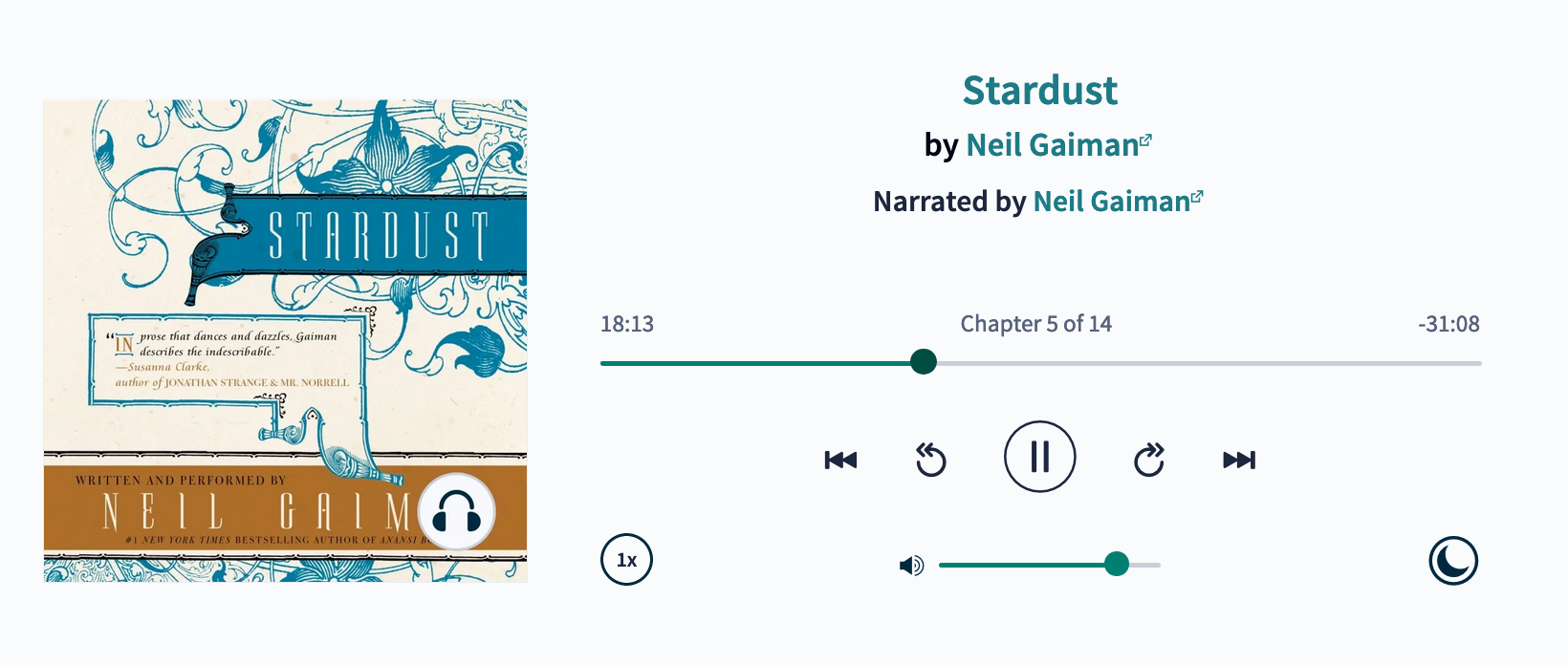 You'll see several options to control your reading experience: move back a chapter, skip forward a chapter, and pause the book at any time on the audio page. There's also a 'jump' option to fast forward or rewind — just look for the round arrows to the left and right of the pause/play button.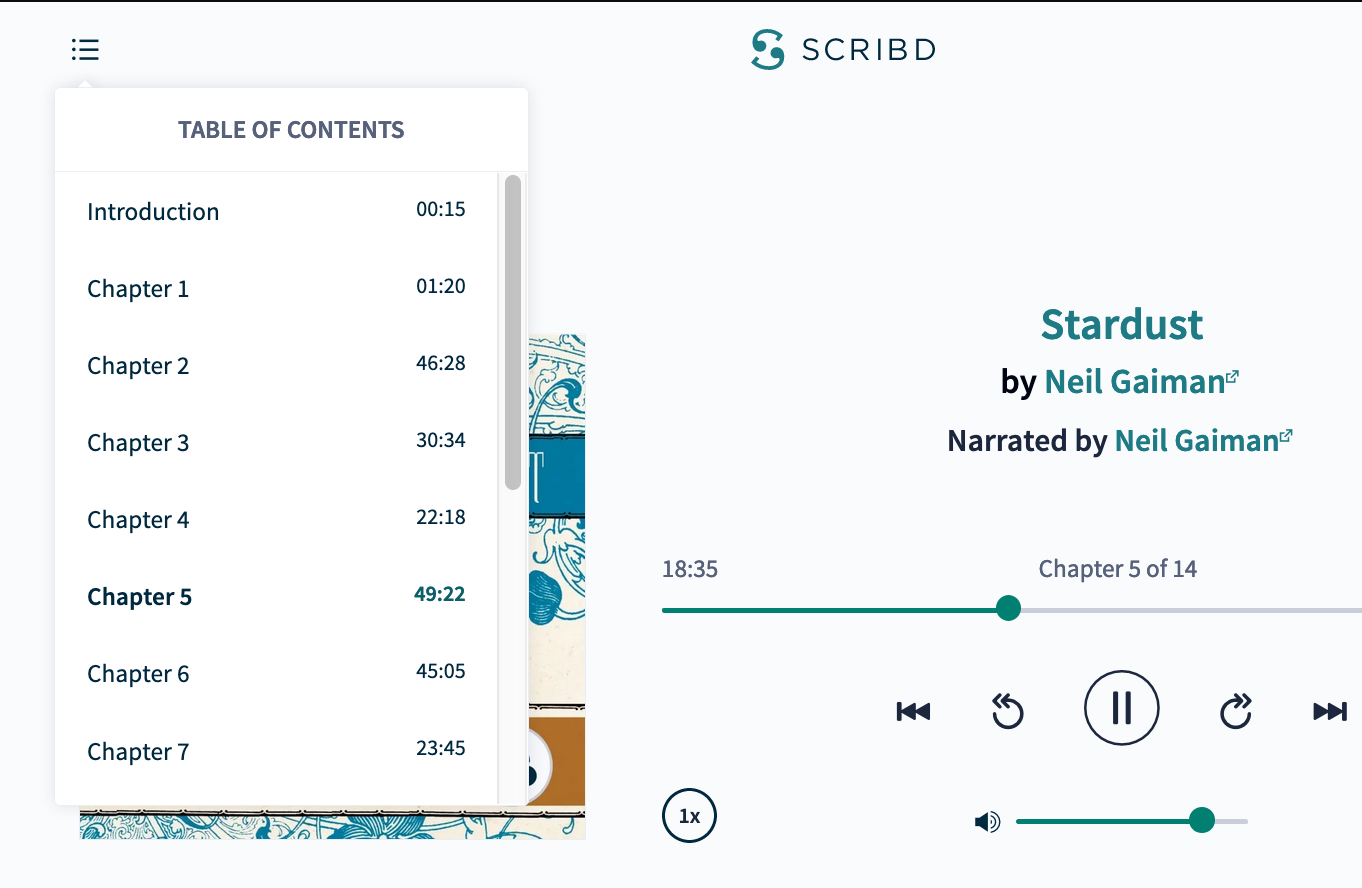 You can also:
Use the Table of Contents to skip ahead or backtrack in a book a bit farther than just a chapter or two. Just click the icon in the upper left-hand corner and you'll be able to select any chapter right away!
Select the moon icon in the audio player to use the sleep timer.
Prefer your narrator slow down a little, or speed things up? You can control the playback speed by selecting the icon at the lower left which says "1x" or similar, depending on your current selection.
If you prefer to use our app, the interactions are very similar, plus you will have the ability to save the audiobook for offline listening!
In our Android app, playback speed changes are only supported if your device is running Android 6.0 or newer.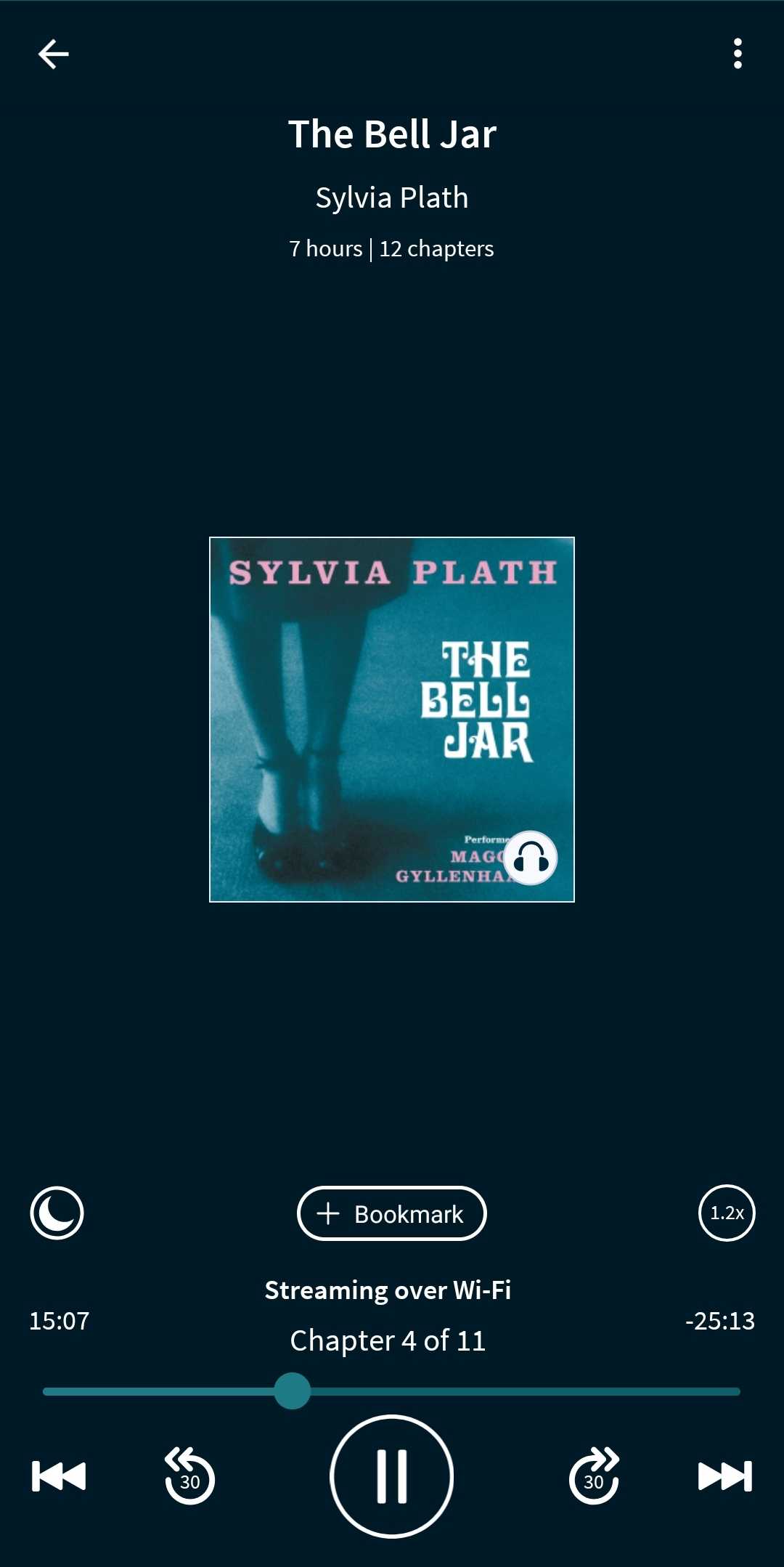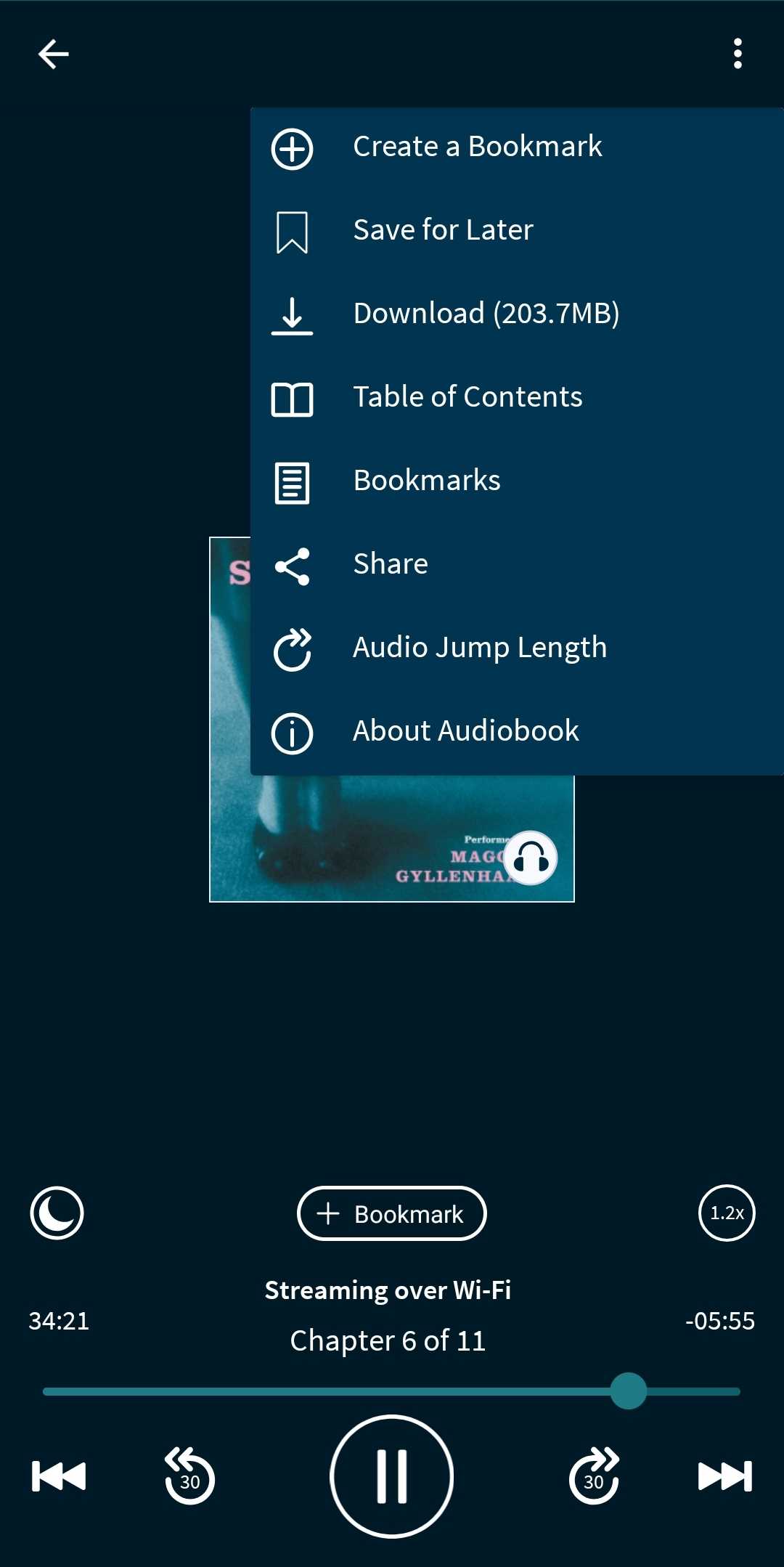 Downloading an audiobook in the app
Just like all of our ebooks, you're welcome to download audiobooks to your device for offline listening by choosing the 'Download' option! For more information, check out Using Scribd offline.
Happy listening!