Scribd's editorial team combs through our library to create hand-curated reading lists which you can find while exploring on the site. But who's better at hand-picking books for you than you? You can look through Scribd's library and create lists of books based on a certain theme or a specific purpose - all tailored to your personal tastes! You can even share these lists with everyone on Scribd by making them publicly available, or set them as private to be enjoyed by only you.
Creating a List
If you don't have a list yet, create one! There are a few ways to go about it depending on where you are on the site but it's always an easy process. If you've Saved a bunch of titles and you want to organize them into lists, you can do so directly from the 'Saved' page. To get there, select 'Saved' from the menu on the left. Once there, you'll see an "All Lists" option to the right:
When you click the 'Create List' option in your Lists view, a pop-up box will appear where you can name your list and decide if you wish it to be publicly available or for your eyes only. Click 'Create List' when you're done—and voila—you have a list!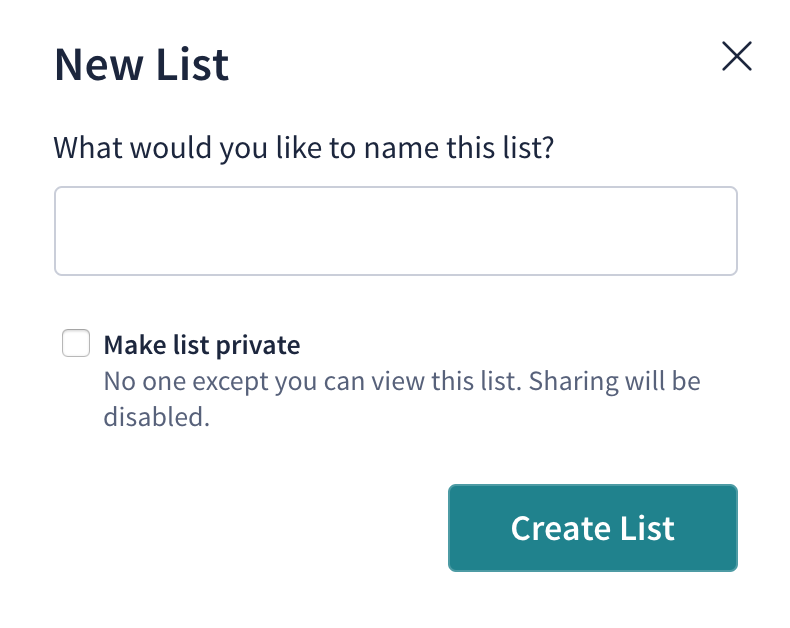 The other option for creating a list is directly from a title itself. While viewing the "About Book" or "About Audiobook" page for a specific title, just select the "Add to List" option and you'll be able to add that title to an existing list, or create a new list!
Adding a title to a List
There's lot of ways to go about getting the books organized properly. You can add a title that you're currently reading from its About Book page by selecting the "Add to List" option, which will bring up a prompt where you can choose which list you'd like to add the book to:
Another option is to add titles into a list from your Saved titles. You get to your Saved titles by selecting 'Saved' in the menu on the left on web and by tapping the bookmark icon on the bottom navigation bar on mobile.
Once you're viewing your Saved titles, you'll see an icon to the right of each title that'll open a menu of options for that book including "Add to List":
Again, a menu will appear and you can either add the book to an existing list or create a brand new one.
Editing a List
If you ever need to change the title, description, or privacy settings of a list, you can do that easily by selecting the list from your 'Saved' page then clicking the small pencil icon to open that list's options.
To remove a title from your selected list, click on the small icon to the right of the cover and progress bar of that book.
If you have any trouble with any of the above, please contact Scribd support and describe the issue so that our Support team can be of assistance.
Happy reading!