Want to highlight your favorite quotes? Add a note to a book for later? You're in luck! With Scribd, you can revisit all your favorite parts in your favorite books by highlighting the word, phrase, paragraph (whatever!), or by adding your own comments.
How do I highlight?
On our website: Click the mouse and drag the cursor to select everything that you want to highlight.
On the app: Simply press down on a word to select it and move the cursors to include your chosen phrase.
Once a part of the book is selected, a few options will appear. Select Highlight, and voila! It'll appear in a contrasting color on the page.
Your selection will also be saved to your list of highlighted content in the Notes & Bookmarks tab.

Removing a highlight
Ever wish you didn't highlight something in a physical book? That's never a worry on Scribd! You can delete any highlight that you add to the book at any time.

Simply tap on the highlighted content from within the book, and you'll see menu options appear:
In the iOS/iPad OS app, select 'Delete'.
If you're using Android select the trash can icon and the highlight will be removed.
The other option is to open Notes & Bookmarks and swipe across the highlight to remove it.
How do I add a note?
On our website: Click and drag the mouse over the full phrase you wish to annotate.
In the app: Press down on a word and move the cursors to include any additional content you'd like to select.
Select Note or Add Note.
A box will pop up where you'll be able to type out your note.
When finished, hit Save and it will be added to your personal list of notes.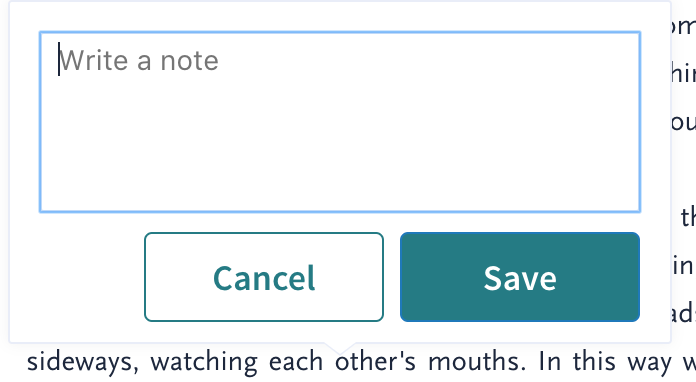 Removing a note
Done with your notes? Misspelled a word and need to edit what you wrote? No worries! It's not permanent ink, so feel free to change your notes or delete them entirely.
Go to the note and select the gray 'page' symbol — in brackets on the side of the book page near the highlighted portion.
The editing page will pop up so that you may type something new and click Save.
To remove the note entirely select the trash can icon or Delete.

If you do remove a note, the content will remain highlighted for you. If you wish to remove the highlight as well, simply tap the text and hit Delete in iOS, or the trash can icon in Android.
How can I review the notes and highlights I've made?
You can access your highlighted content and all the notes you've added to a book at any time. To view your notes, highlights, or bookmarks within a particular book:
Open the book.
Select the three-dot icon in the upper right-hand corner of your book (the icon will be hidden in the app if you're already actively reading the book - just tap the screen once and the menu icons will reappear).
Select Notes & Bookmarks from the list of options. Highlighted content will be marked "Highlight" and the notes will appear with your selected quote and the note you wrote.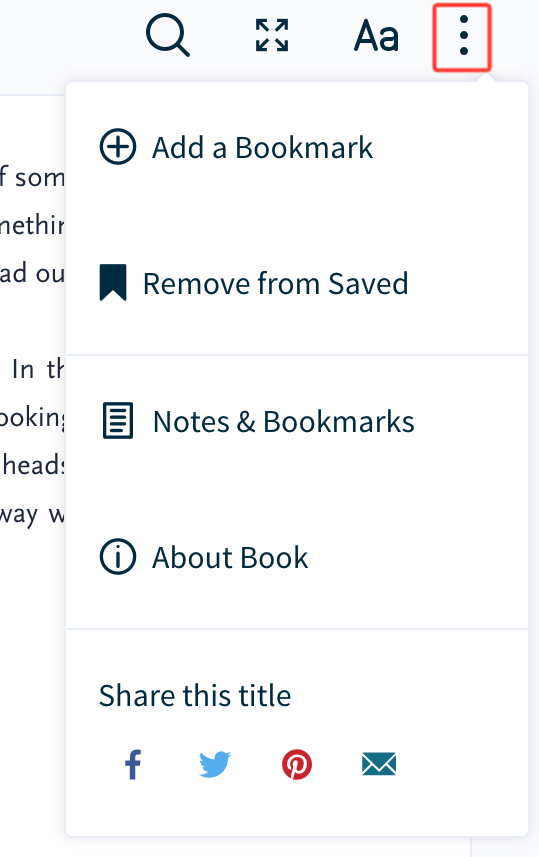 You can access audiobook bookmarks using these same steps, however other annotations are not currently available for this format. Clicking on any of your annotations will automatically take you to that area in the book.
Notebook: where all your notes go!
If you'd like to review all the annotations you've made while reading any content on Scribd, the Notebook tool in our app is exactly what you need! Just navigate to your Saved tab in the app, then select Notebook from the menu at the top of your Saved list.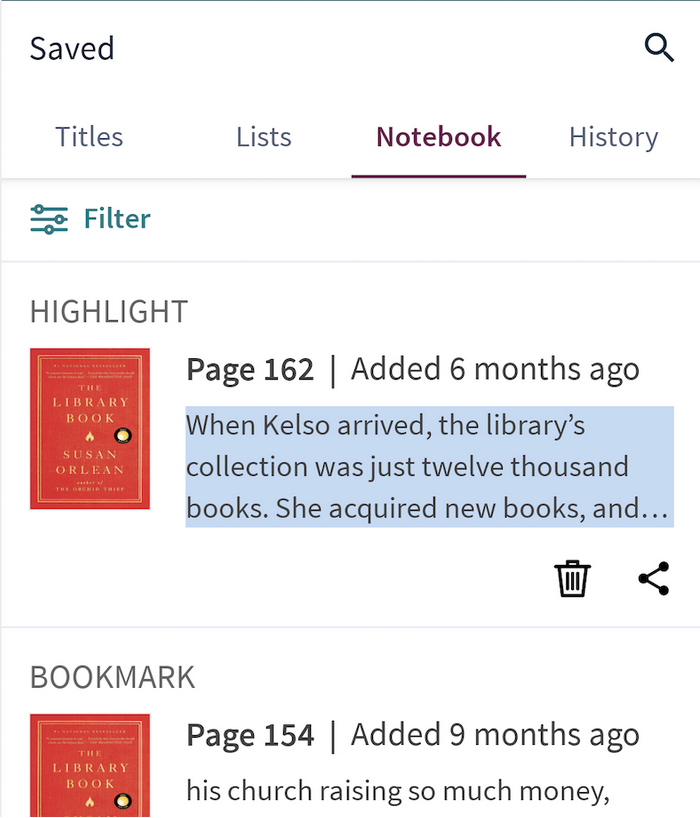 By default your Notebook will show all annotations across any titles you've read, starting with the most recent. Selecting the Filter option at the top left of your Notebook will allow you to narrow your results to Bookmarks, Notes or Highlights. You can also use the Delete icon on any annotation to remove selections individually, or the Share icon to share a quote using other apps you have installed on your device.
Why can't I highlight or make notes in some particular titles?
If you have any trouble with highlighting content or adding a note to the book you're reading, the document may include image-based content, in which case you won't be able to highlight content or add notes. We're sorry for the trouble!
What happens to my notes if I cancel my subscription?
We'll keep all your highlights and notes saved for you even if you cancel your subscription with us. If you decide to renew your subscription, just use the same Scribd account and all your highlights and notes will be ready and waiting!