One of the best features available on Scribd is that when you come across a book you know you're interested in reading (but don't have the time to start right away), you can save it for later. You can also save books in Lists: a group of books with a similar theme or purpose. Scribd is a library tailor-made for your needs—you're the one that gets to create what you feel is the ideal library. You can save titles to read for later, track the books you're currently reading, and see all the books you've already finished reading.
Adding a title to Saved
Don't have anything saved? Start adding content to your library! If you've found a book you're interested in, here's how to save it for later:
When you select a title to read, you're taken to the 'About' page for that specific title which gives you the synopsis, the author bio, reviews of it, and so on. If you don't want to 'Start Reading' right away, you can click the 'Save For Later' option right under it:
If you've already opened the book to start reading, and you want to add it to your Saved page, just click the three vertical dots on the top right, and select "Save for Later" on the menu that appears.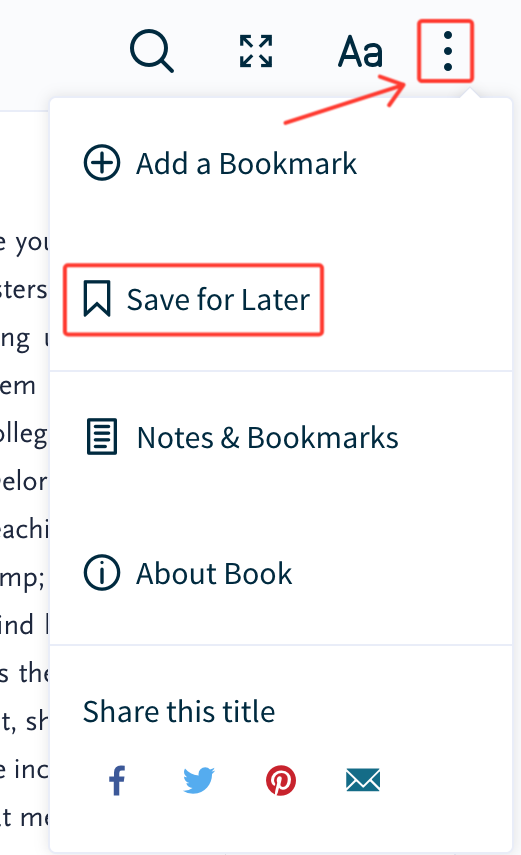 Locating Your Saved Titles
Anytime you want to see what you've Saved or edit your selections, just click the 'Saved' button found at the top left of most pages on Scribd.
All of the titles that you've chosen to "Save for Later" on Scribd will appear here, with the default view showing you everything. You can narrow these results down by clicking on "Filter":
Click on "All Lists" towards the top right of your Saved page and you'll see the Lists you've created:
Removing a Saved title
There are a few options to remove content from your Saved titles. You can remove a title from your Saved page by clicking on the book cover for the book you'd like to remove, and clicking the "Remove from Saved" option on that book's About page:
Alternatively, you can also remove titles directly from the Saved page by clicking the three dots icon to the right of each book and selecting "Remove From Saved" from the menu that appears for that title:
If you encounter any issues with your Saved titles or have further questions, please contact Scribd support for help.
Happy reading!