We know what you came here for — Scribd has one of the largest collections of books available right at your fingertips! So let's cut to the chase and get you what you want: all the books you can handle.
There are two ways you can find titles you're interested in: by searching or by exploring. Which one you choose will depend on what you have in mind for your next great book.
Searching for content
How to search
If you already know what you want to read, you'll want to use the 'Search' tool. When you're browsing Scribd's website, you'll see a search box at the top of most pages. Meanwhile, in our app you'll start by tapping the magnifying glass in the menu at the bottom of the screen.
To start a search:
Click anywhere in the "Search" box.
Type an author's name, a book title, or any keywords.
Press "enter", or click/tap on the magnifying glass.
You'll be brought to a landing page that includes some highlights related to your search term from several types of content in our library: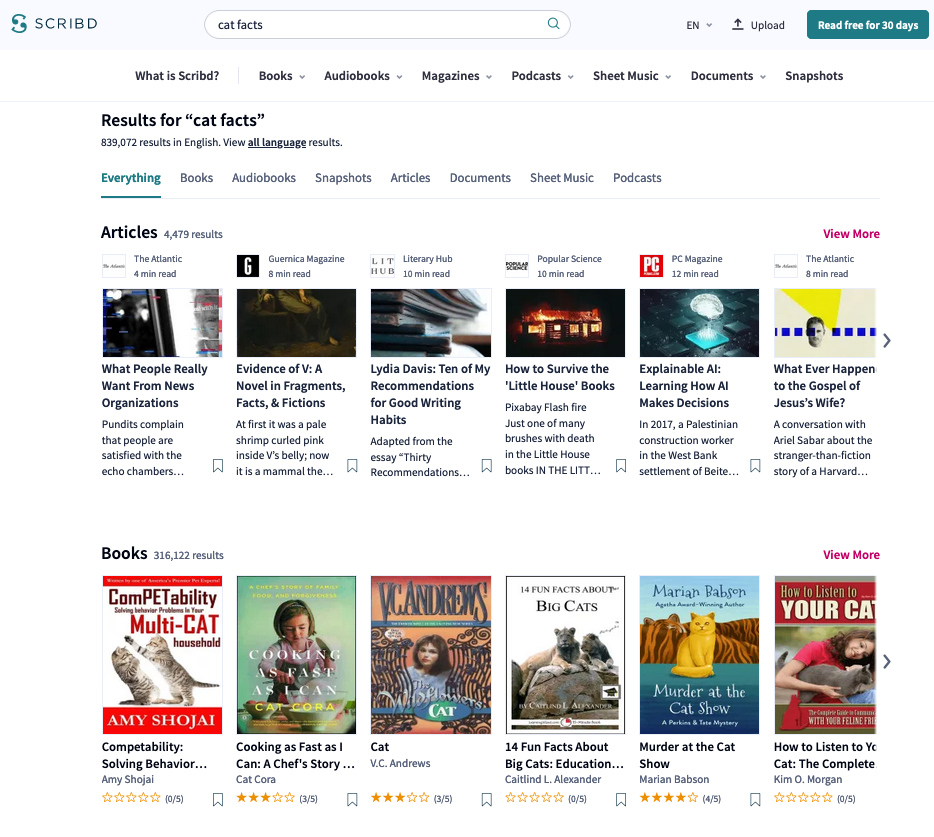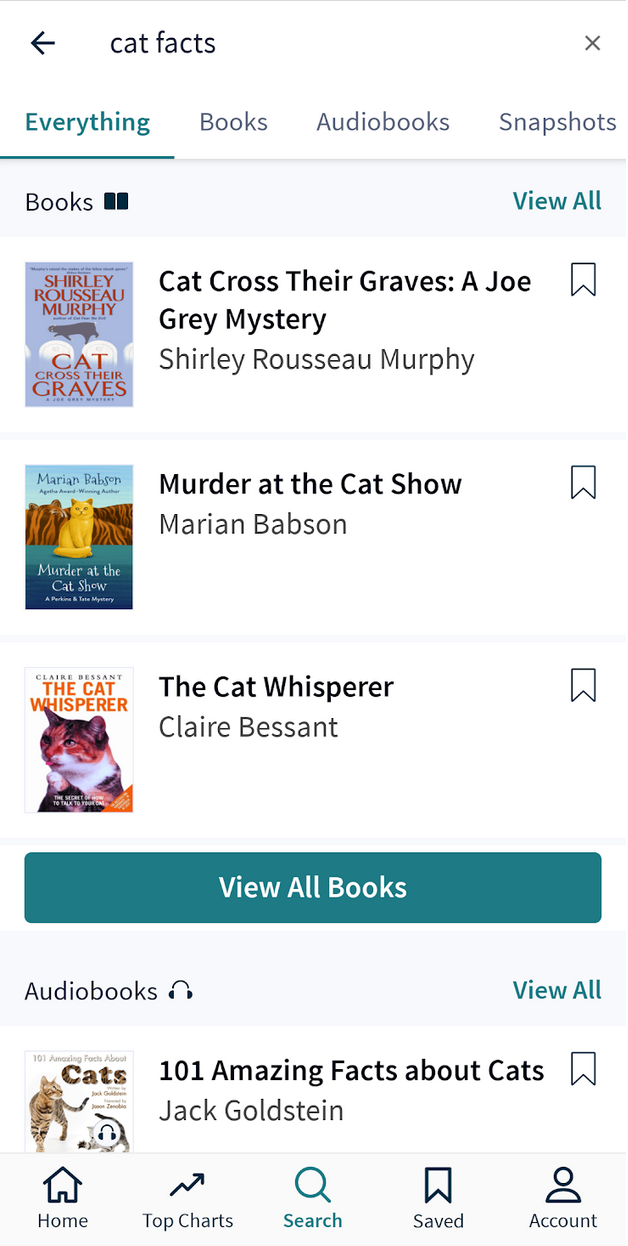 Filtering search results
Generally speaking, more than one result will appear and you can filter through all results by clicking on a particular filter from the top row of content type options, such as "Books", "Audiobooks", or "Articles". We offer even more filters to narrow down the results after that too!
So, if you were looking for just ebooks related to "cat facts", you would click the "Books" filter from the top:

This would then bring you to all Scribd search results for "Books" related to "cat facts". Once you've chosen "Books" as your main filter, you now have even more options such as language, or the date it was added:

Still not seeing what you're looking for? Try our Advanced Search options!
Exploring for content
Browsing by content type
If you don't have a specific title in mind, no worries - we've got you covered! Just use the menu to click on the content type that strikes your fancy, and you'll be taken to the Overview page for that content library ("Books", "Audiobooks", "Documents", "Magazines", and "Sheet Music").
By default, the Overview tab will load first and you'll see titles you've saved using our "Save for Later" feature up top. Scroll through the Overview page for recommendations tailored just for you! Interested in a specific genre? Select the "Categories" tab and you'll see a list of available genres for that content type. The "Editors Picks" section is a curated list of our editors' picks, updated weekly.

| | |
| --- | --- |
| In the Scribd app, you will find the content categories across the top of your screen, and if you ever want a shortcut to our most popular titles check out the Top Charts! | |
Browsing by genre
Not sure what to read next? You can always explore our library by genre. When you select a category to browse through (such as "Nature"), you'll be taken to an overview page where you can also select the content type. You'll see a few curated lists of titles included like "Recommended for You", "Recently Added", and "Bestselling":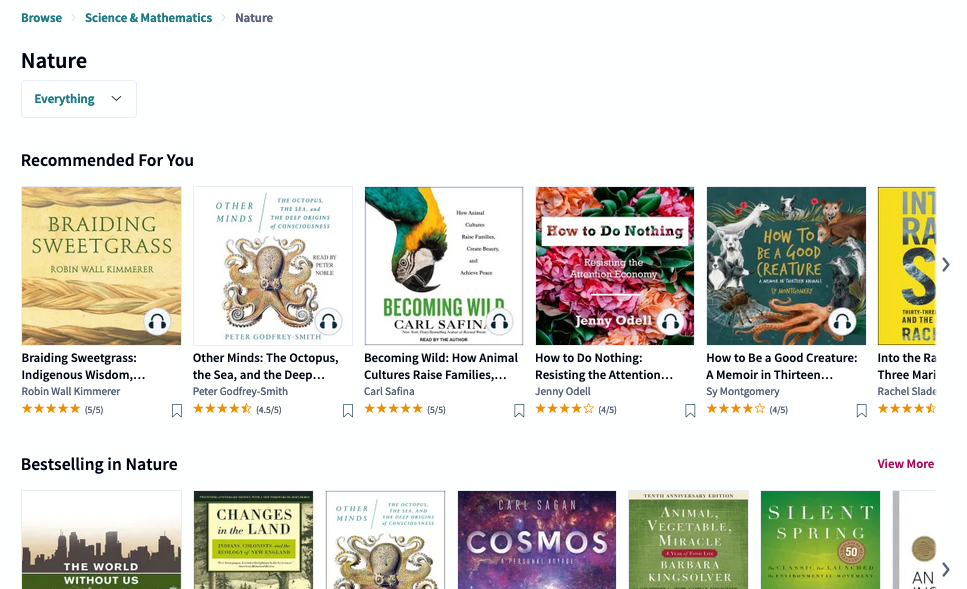 When you scroll to the bottom of an overview page, you'll find the option to view all the titles of that interest. There, you can sort results based on content type and sort titles you see based on it's 'bestselling' status or by titles that have been recently added to Scribd!
While Scribd staff cannot search on your behalf or send content directly to you, we are more than happy to assist with any technical issues or questions you may have! Just contact Scribd support for help.