Scribd knows what you came here for. It's not because it's a cool name, it's because Scribd has a huge collection of books for you to read right at your fingertips. So let's cut to the chase and get you want you want: all the books you can handle. There's two ways you can find titles you're interested in: by searching or by browsing. Which one you choose will depend on what you have in mind for your next great book.
Searching for Content

If you already know what you want, you'll want to use the 'Search' box at the top of most pages. This will allow you to search for all sorts of fun stuff - from Documents to specific Authors our search tool is your key to finding everything Scribd has to offer.
To start a search, click anywhere in the "Search" box and then type an author's name, a book title, or any key words, and press "enter" to start your search. You'll be brought to a landing page that includes some highlights from every option related to your search term: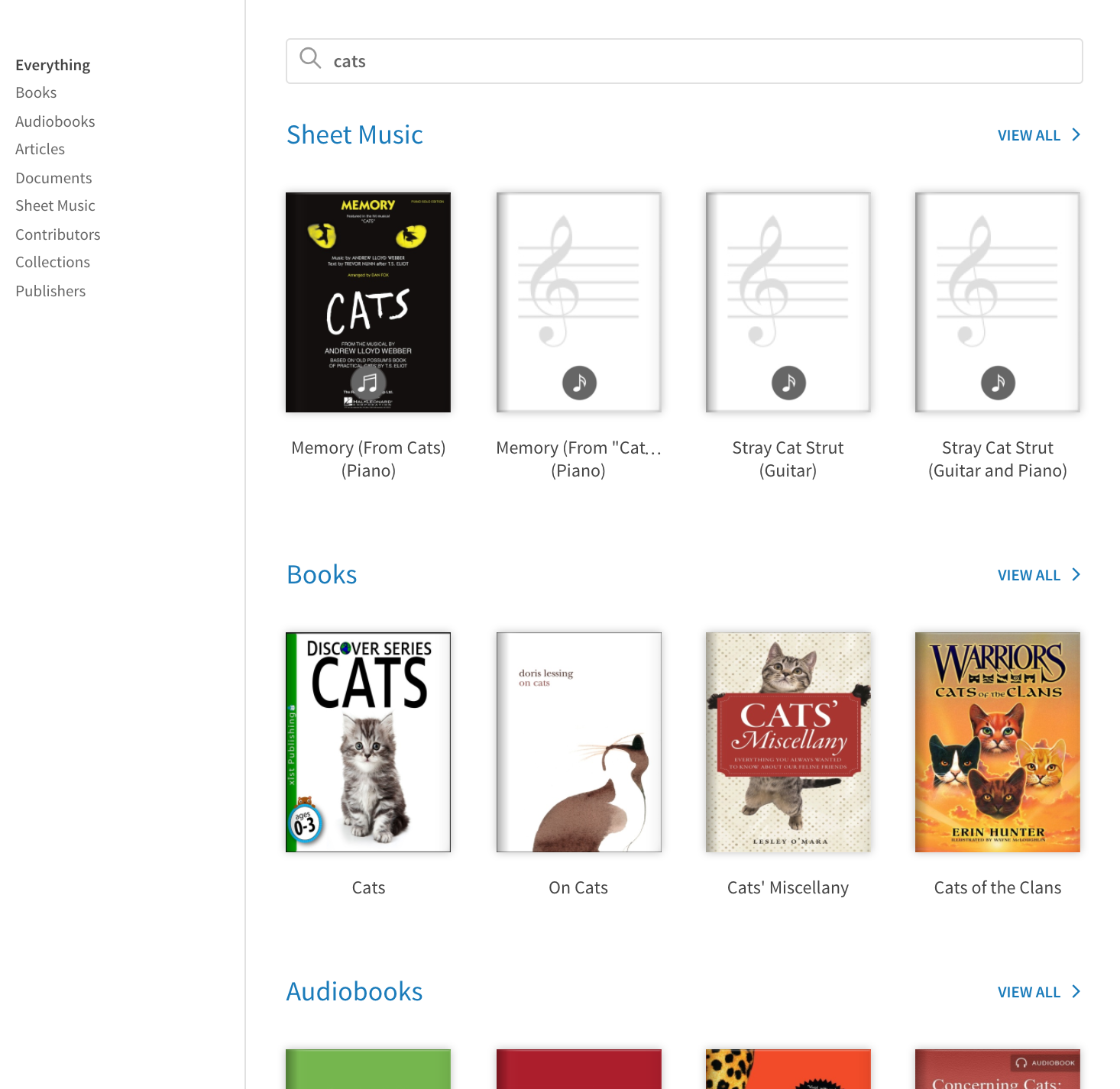 Generally speaking, more than one result will appear and you can filter through all results by clicking on a particular filter from the left side, such as "Books" or "Documents". We offer even more filters to narrow down the results after that too!
So, if you were looking for just e-books related to "Cats", you would click the "Books" filter from the left side:
This would then bring you to all Scribd search results for "Books" related to "Cats". Since you've chosen "Books" as your main filter, you now have even more options such as genre, language, or even whether the book is unlimited or not:
Browsing for Content
If you don't have a specific title in mind but have a general idea of what you're looking for (we've all been there), no worries! Our explore tool has you covered, just click on the 'Explore' icon to the left of the search field to head on over to our Explore page! You can browse by interest (Fiction & Biographies, Health & Fitness, etc), or by content type (books, audiobooks, articles, sheet music). 

Documents are no longer listed in our browse categories from the main page, but don't worry, you can still find them here: https://www.scribd.com/browse
Once you have chosen a content type, you'll see a selection of recommendations and various subcategories for you to explore.
You have a few options to choose from when it comes to finding the best book for you to read next. If you want recommendations from top influencers, choose "Reading Lists" - these are lists of recommended titles from the world's top influencers: 

Scribd Selects:
Out of Monthly Credits and can't wait to dive into the next literal adventure? Scribd Selects are hand picked by our editorial staff and are always completely free to members for the month they're up!

Top Books:

These lists contain the best of our hand-curated titles. Here, you can easily see our top trending titles, collections from New York Times Best Sellers and Oprah's Book Club, and accolade-based collections including the Pulitzer Prize, Nobel Laureates, and the Newbery Award.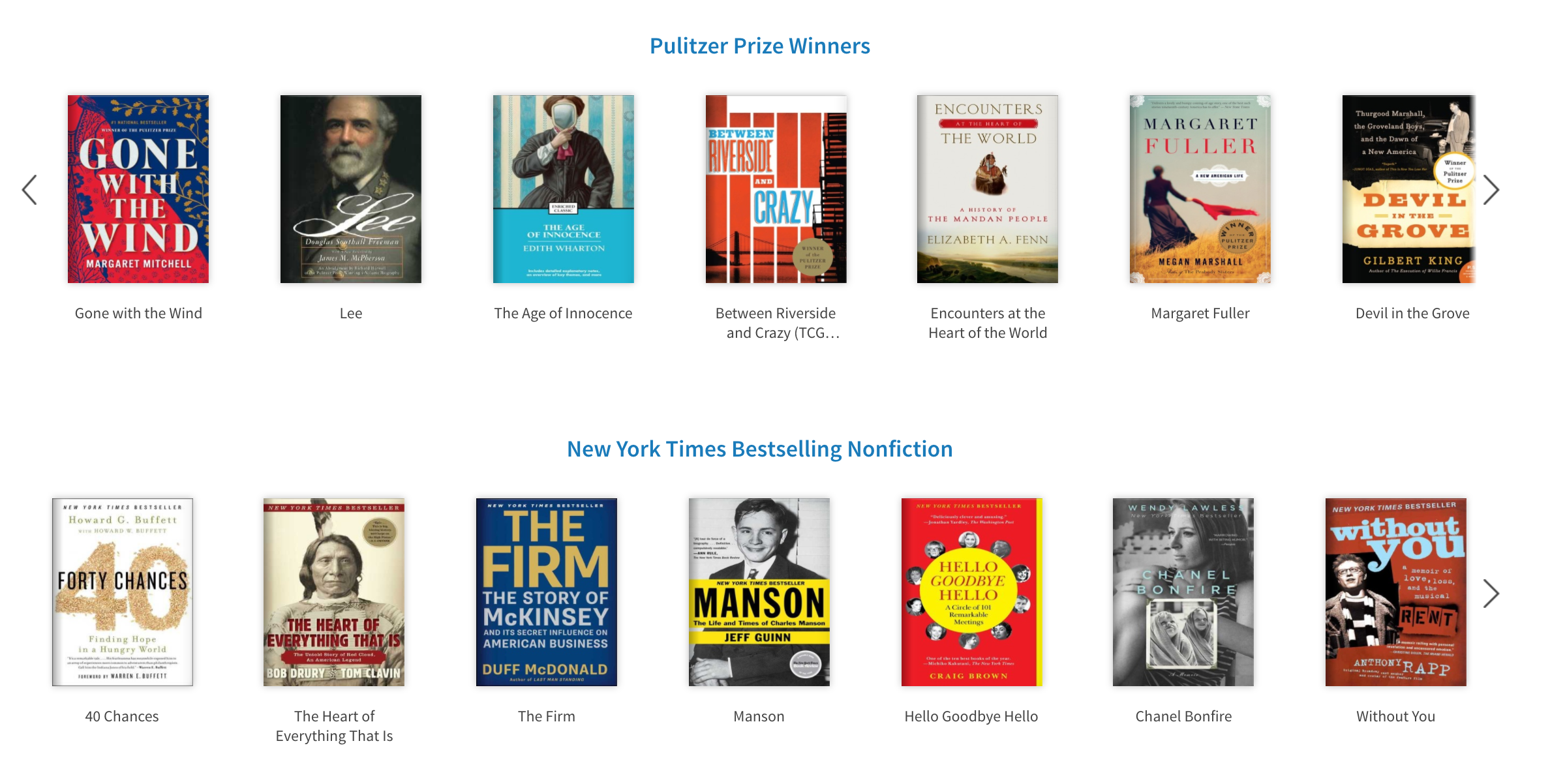 Browsing by Interest: 
If instead you select a specific interest to browse through (such as "Fiction & Literature"), you'll be taken to the overview page for that interest, where you can select the content type (defaults to "Everything") and a sub-topic depending on what you're in the mood for! Each interest has a group of categories so you can keep narrowing down your results until you find what you're looking for, even if you didn't quite know what that was when you started!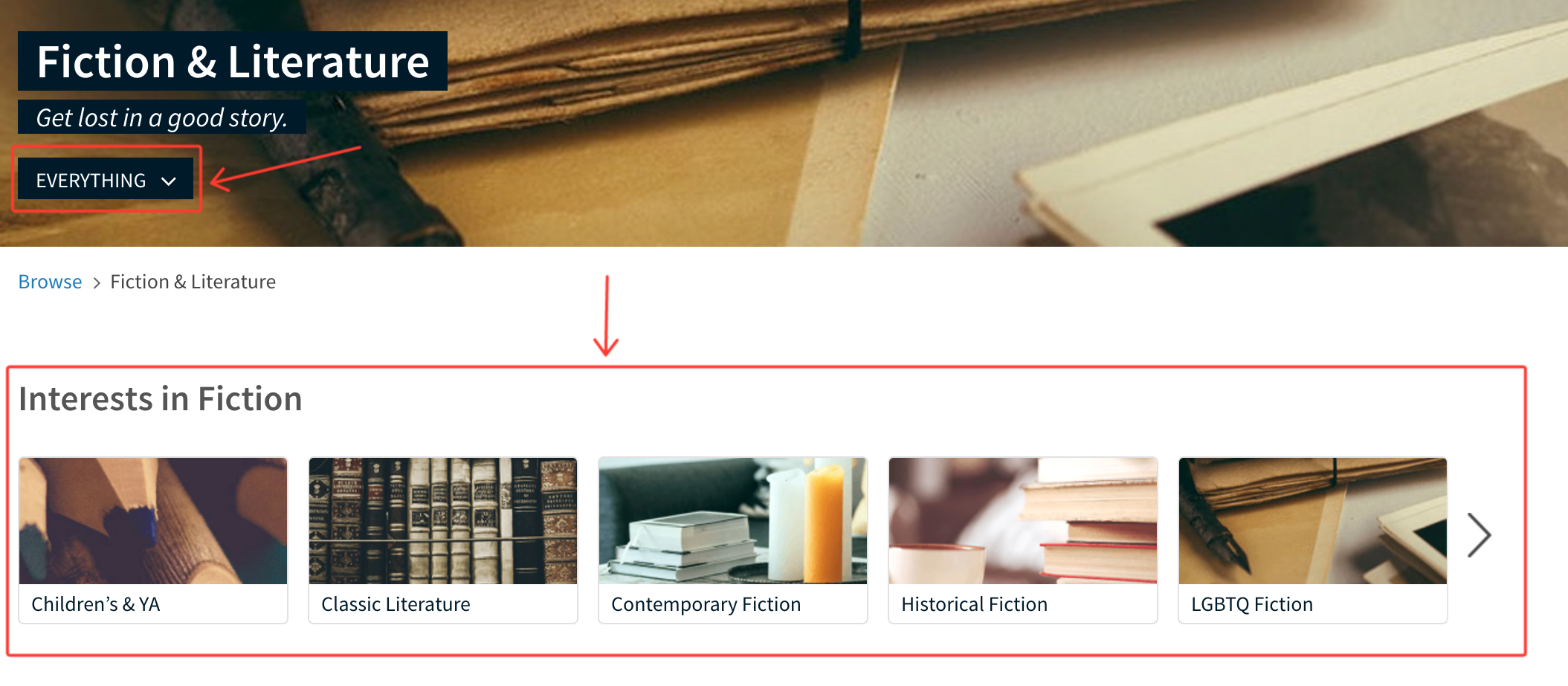 Throughout the overview of any given interest or category, you'll find various selections of books curated by our editorial team. Simply click on the title of the collection to browse all of the titles, or the arrows on either side to scroll through the titles: 

Between the editors' picks and bestsellers, there are also other books grouped together by theme. 

When you scroll to the bottom of an overview page, you'll find the option to view all the books of that interest. There, you can sort results based on content type and sort titles you see based on it's 'best selling' status, the popularity it has on Scribd, or when it was added to the library. 
Happy reading!
While Scribd staff can not search on your behalf, or send content directly to you we are more than happy to assist with any technical issues or questions you may have! We can be contacted via email anytime: support@scribd.com