Just like signing up, maneuvering around the site is simple! First and foremost, you'll want to get acquainted with the menu bar and navigation menu. This bar appears at the top of almost every page on Scribd.com and it's the secret to accessing everything on Scribd. It's used to search our library for specific titles, explore through your interests and particular content types for something new to read, maneuver to your Saved titles with zero hassle, access your Account Settings, and upload your own documents to the site. 

Explore
First there's Explore. If you don't have a specific title in mind but have a general idea of what you're looking for, our Explore tool has you covered. Here, you can explore by content type or by interests. Our Editor's Picks and Top books have you covered if you're looking for a recommendation, or best seller!
Search
If you already know what you want, use the 'Search' box found directly next to browse. Type an author, a title, or any key words, and the search feature will auto-complete and display the 'best match' for your search.
Saved
This is where all the good stuff is. You'll find the titles you've recently viewed, 'Saved for Later', and fully finished. You will also find your lists. This page is completely private—no one sees what you've read but you. More information on your Saved titles can be found here.
Beyond those helpful items, if you click on your profile icon (to the right of the 'Saved' button) the handy-dandy drop-down navigation menu appears. This is where you'll find links to the other important pages concerning your account with us. It's also the place to go when you're looking for help or when you want to logout of your account.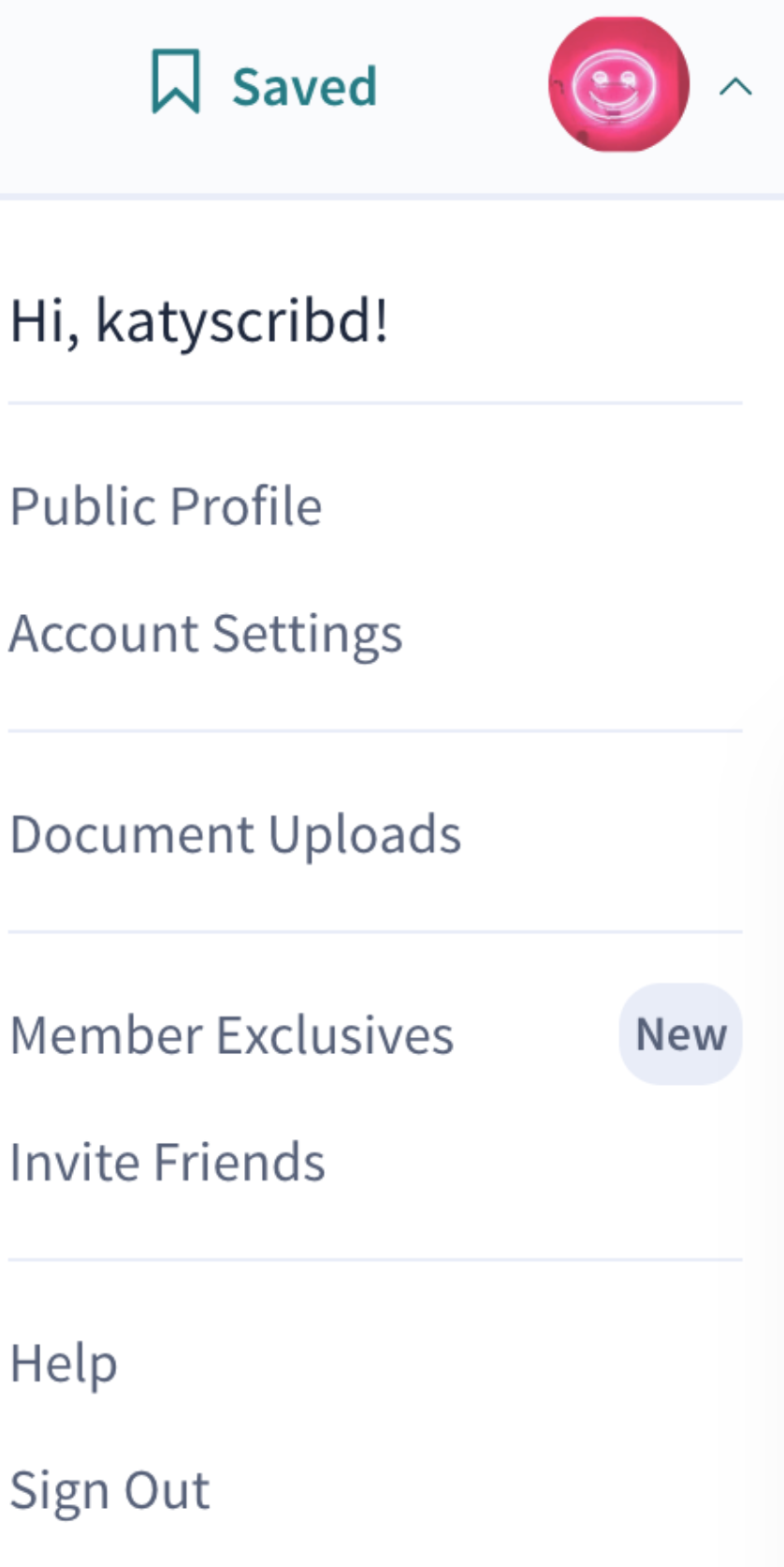 Public Profile
This is where you can see how others view your page on Scribd. If someone searches for you, they'll most likely land on your public profile. You can include a link to this page on a blog or secondary site if you want to direct people to your Scribd profile.
Account Settings
This is the link that let's you manage the settings for your account with us. Here, you can:
Change your username, email address, password, and other profile information.
Link or unlink your Facebook account.
Change notification preferences.
Manage or cancel your membership.
We have even more information on managing your account in our Account FAQs. You can also learn more about our Subscription Memberships when you read through our Paid Features FAQs.
Document Uploads
If you've published anything on Scribd, then thanks for sharing your work with us! But more importantly, the 'Document Uploads' section is where you'll be able to manage all the content that you've put up on Scribd. You'll be able to change the privacy settings, add items to your collections, edit the information on your work, or delete any that you no longer want on Scribd. If you're think about putting your work up on Scribd, check out the Upload Guide for more information.
Member Exclusives
The Member Exclusives page is where you can redeem the exclusive bundles that we offer to all premium members of Scribd. As long as you have an active subscription with us, you'll also be able to use the voucher tokens available on this page to sign up for the bundles included with your premium membership to Scribd! 
Invite Friends/Read for Free
We offer free membership time for each friend or family member that you invite to read with us! Use the link included in your referral page to invite others to Scribd, and we'll add 30 days of free membership time to your subscription with us for each new person that signs up and purchases a premium membership. Keep in mind that you must have an active subscription with us using our credit card payment method in order for this to work, as we are unable to add or alter subscriptions purchased using iTunes or PayPal. 
Help
The 'Help' link will take you to our Help Center. You'll find all our guides and answers to frequently asked questions (like this one)! Feel free to submit a request form when you're on the support page if you have a question or are having some issue that wasn't addressed. Our customer support team is always happy to help and make sure your time on Scribd is as excellent as can be.
Sign Out
Lastly, to sign out of Scribd, you'll just need to hit the 'Sign Out' button at the bottom of the navigation menu. You'll just need to sign back on to access all your content once again when you're ready to come back and spend some more time reading with us.
Now you should be able to navigate through Scribd like an expert. And of course, if you need any clarification and you're unable to find the answers under our FAQs on the support page, just send a request over to the support team and we'll be able to help.
Never stop reading!