So you've decided to sign up and start taking advantage of what we have to offer in our large digital library. What an excellent choice you've made today! It's an easy process to get started reading and sharing on Scribd, so let's get the greetings out of the way.
Welcome to Scribd! We're excited to have you as a new member!
Now let's get to the the actual process so you can start using Scribd immediately.
There are multiple ways to create an account with Scribd. We like to make it as easy as we can so that everyone can enjoy what we have on our service!
Signing up through Scribd
To create a basic, free account on Scribd, you just need to click on 'Sign In' in the top-right corner of the site and then select the option 'Sign Up' found under the 'Sign In' button and "Forgot Password?" link. It'll bring up box that looks like this one: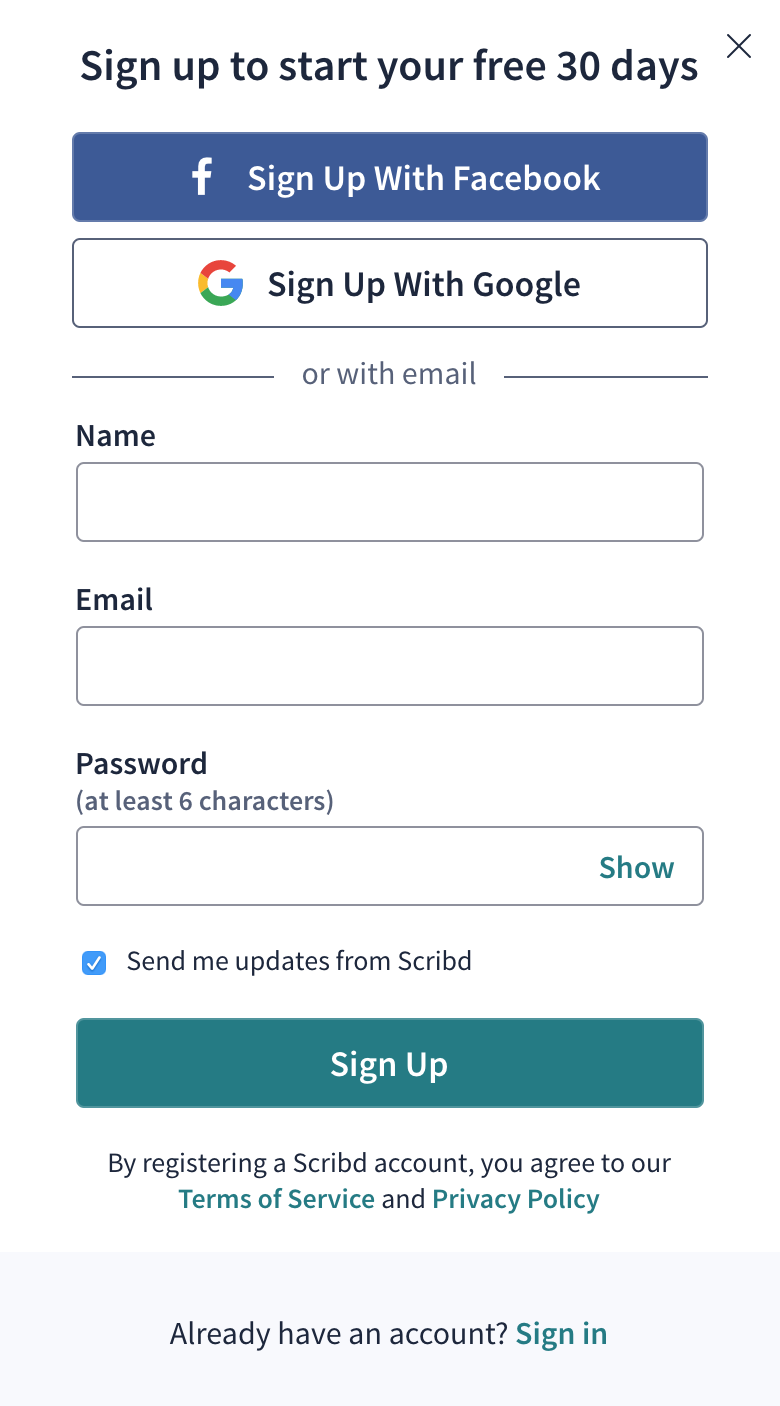 As you can see, all that you need to do is type in your name, your email address, think up a password to protect your account, and click 'Sign Up'. And you're done! It's that simple to start using Scribd.
Signing up through Facebook
Another option would be to sign up using your Facebook credentials by clicking the blue button with the Facebook symbol on it. It's not a requirement to have a Facebook or to link Facebook to your Scribd profile, but it is an easy way to have a more personal profile on Scribd. You'll be prompted to allow Scribd to access your Facebook profile data and you'll have to agree to this in order to proceed. You don't have to but the option is available to allow Scribd to post on your Facebook timeline. Just click on the blue button to log on through Facebook. 
A bit of a warning for all those Facebook people out there, you need to be careful with the blue button! If you already have a Scribd account that you created using the first method that's not linked to your Facebook, and then you 'log on' using Facebook, you'll actually end up creating a second separate Scribd profile.
Once you've signed up, you can come back and enjoy Scribd any old time by clicking on 'Log In' which is right above the signup link. You'll just have to enter in your email address or username and your password (or click that blue button if you went the Facebook route) and you'll be connected to Scribd.  
We're also conveniently available on several mobile devices, so you can download our app on your iPhone, iPad, Android device, Kindle Fire, Nook HD and sign up with us that way!
Now you can:
Save books, audiobooks, and documents to your library for easy access later. We even automatically bookmark the spot where you left off in each book.
Share your reading interests and activities with other Scribd readers, and optionally with your friends on Facebook.
Follow others on Scribd to stay current with their reading and publishing activities.
Leave comments and ratings on Scribd content.
Sync your saved books and other data with your mobile device.
Share your own content by publishing it on Scribd.
Getting the most from your account
The next step if you want to get even more from your account with Scribd is to purchase a premium membership for unlimited access.
If you purchase the membership right when you find us, you'll end up creating your account on Scribd in the process of becoming a member. This would also be an excellent idea on your part since it unlocks hundred of thousands of titles (ebooks, audiobooks, and news and magazine articles) including bestselling books and new releases in every genre. We're just putting that option out there as something to consider. 
And we'll say it again, welcome to Scribd! Happy reading!